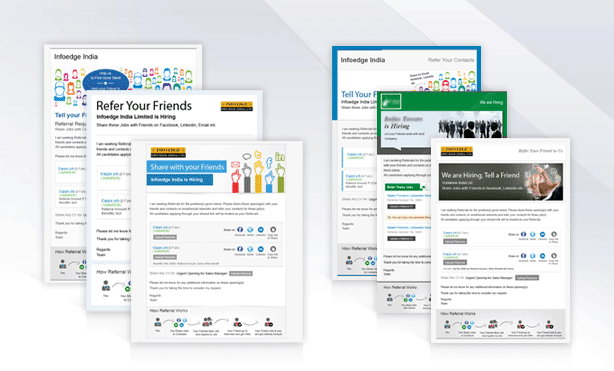 Recruiters can now boost their Employee Referral program by using our pre-defined HTML templates.
These templates look nice and provide rich look and feel to your referral emails with their 'Company Branding'.
Whats more you can now create and customize how your referral email looks with your own banners, colors and images.
The options include 'Mobile Ready' email template to allow your employees to share through mobile as well.
View our most used email themes below –
Rich email theme with Vibrant colors, 'Faces' is one of the most used referral email themes.
Mobile enabled theme; Provides classy feel to your employees viewing the mailer on their smartphones.
Talent theme – smart with Stylish colors and motto to find 'hidden talent in your employees' network'
Branding ready, allows full customization.
Recruiter can upload and attach their own Banner, choose email colors that match their brand theme and customize message to employees.
To know more, please connect with us at referralsupport@naukri.com