Now manage job applies efficiently from a single interface
One of the fastest ways of finding relevant talent for open positions is by posting jobs, but recruiters are often overwhelmed by 100s of responses received. It takes a lot of time to wade through each profile, share with teams and shortlist a handful. Sharing high-quality candidate profiles to hiring managers within a certain time are of paramount importance to recruiters. And traditional tools like Excel do a poor job in managing & tracking a huge inflow of responses. This is where modern tools like Response Manager help recruiters fast-track their hiring – which is why we have eApps, a free Response Manager for recruiters.
By paying close attention to recruiters' feedback consistently and keeping their needs at the center, we have totally transformed eApps.
If you are still using manual methods of managing your job applies, it's time you switch to our Response Manager (eApps).
How can you access it?:
Login to your Naukri account. In the Jobs and Responses tab, click on 'Manage Jobs and Responses'.

Click on any requirement to take you to the response manager of that requirement.

We've simplified eApps. Its intuitive UI and a host of other features will now let you do more than just tracking job applies.
Clean, Modern, & Intuitive Interface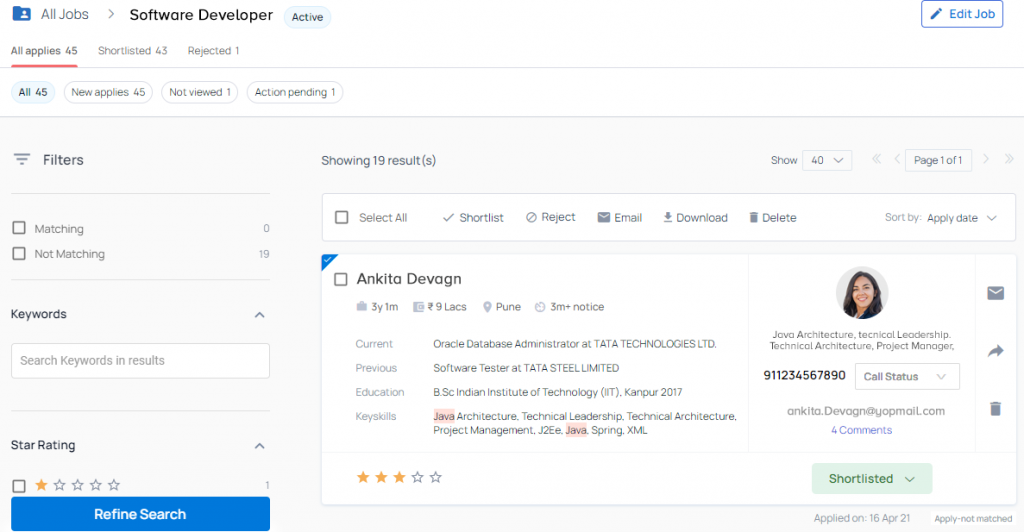 eApps will help recruiters:
Identify Relevant Applies Quickly
Our enhanced 'Star Rating' algorithm matches jobs and applicants in a better way. Based on multiple parameters like applicant's company, designation, skills, his past searches, recruiter preferences etc., it rates the applicants on a scale of 1-5, 5 being the best. You'll receive only the best applies directly in your inbox. You can also view them by clicking on 'Matching Applies' box.
If you wish to see best skilled applies, use sort by 'Key Skill Relevance' to bring out the best candidates on top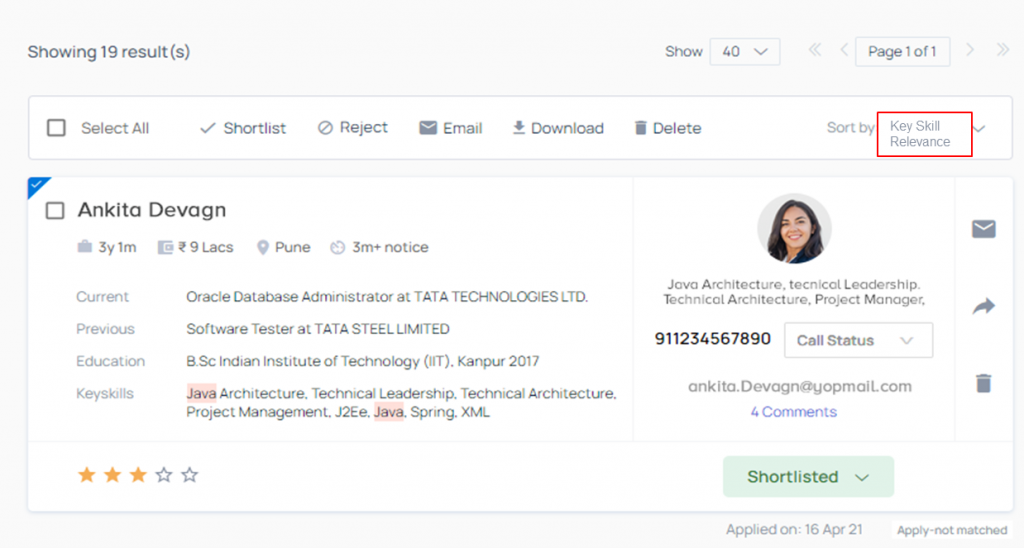 Use filters and search functionality to screen profiles that match your criteria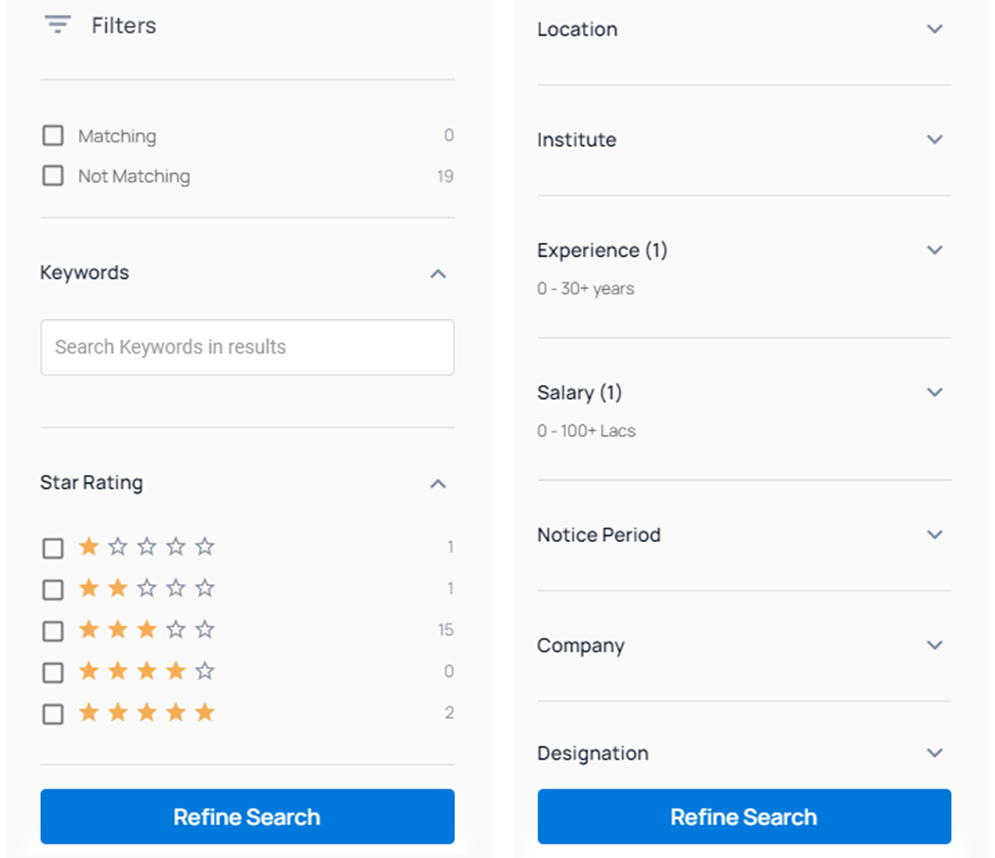 View Talent Pipeline Upfront
Quick view of job applies in simplified stages (Shortlisted & Rejected)

Clear indication on applies' status (New Applies, Applies not viewed, and Action Pending). One can navigate to different stages to manage applies easily

Collaborate Efficiently
Recruiters can communicate with candidates using WhatsApp and mark statuses to keep themselves & the team informed on the communication status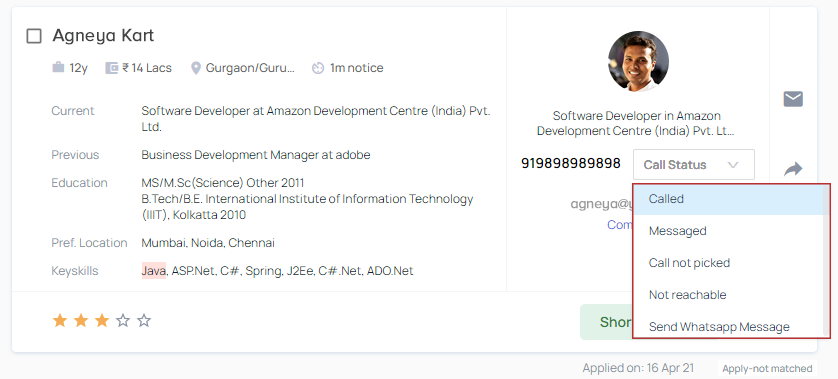 Recruiters can comment on applicants' profiles for easier tracking & to update teams on the progress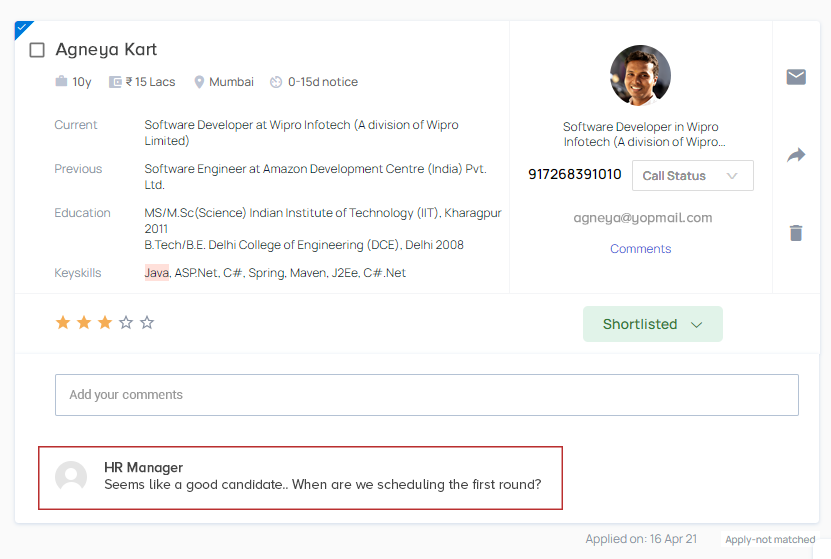 Recruiters can forward candidates' profiles to hiring manager from a single interface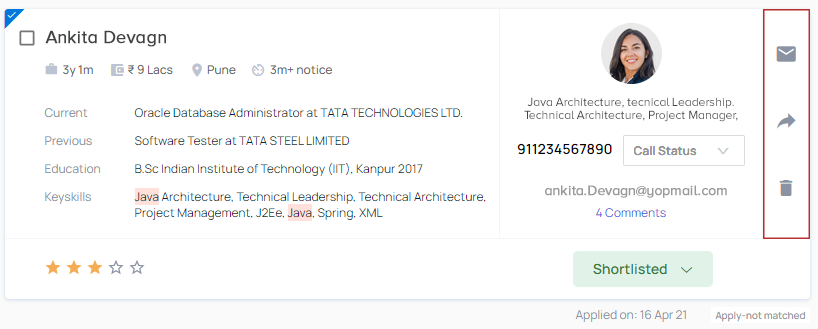 Recruiters can now also place calls to candidates from their mobile phone by simply clicking on a new option 'Call from App' on the candidate tuple.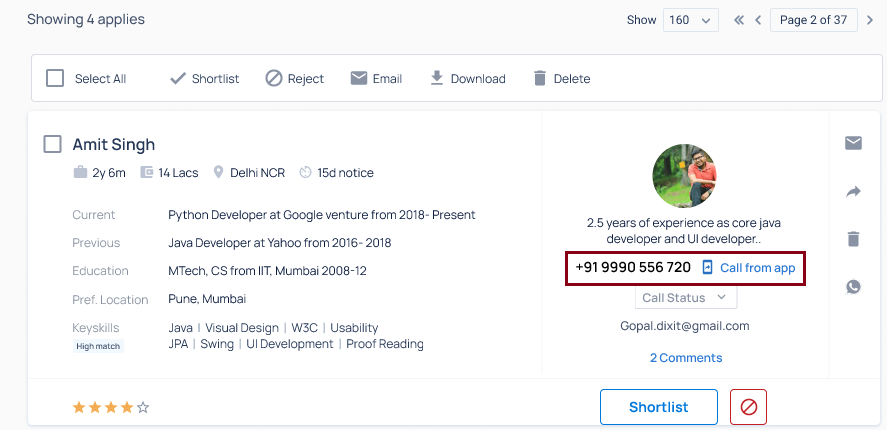 Whatsapp is a hugely popular way of communicating with anyone these days. Therefore, recruiters now get an option to communicate with jobseekers using Whatsapp for Web. This feature offers added convenience.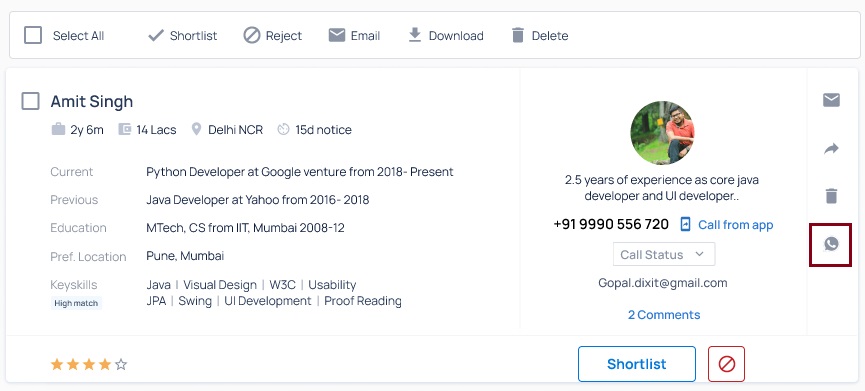 The Key skill score & Designation score of a profile can be viewed by hovering the mouse on the star rating. This score is assigned automatically by the system to every profile.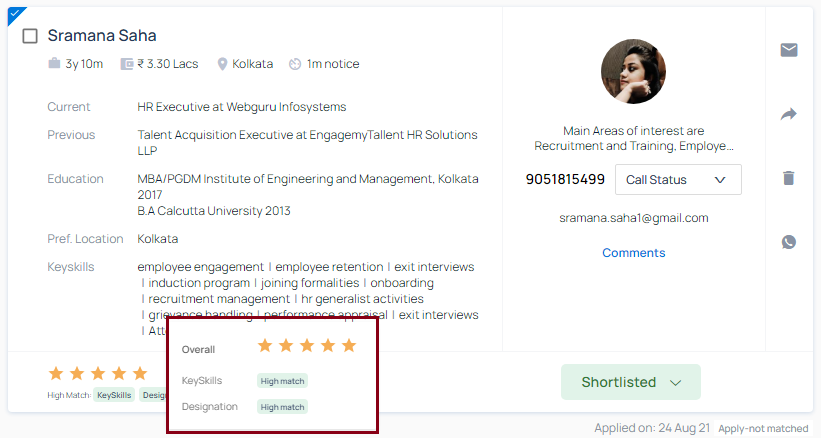 Recruiters can now sort profiles by the key skill relevance score and designation score also.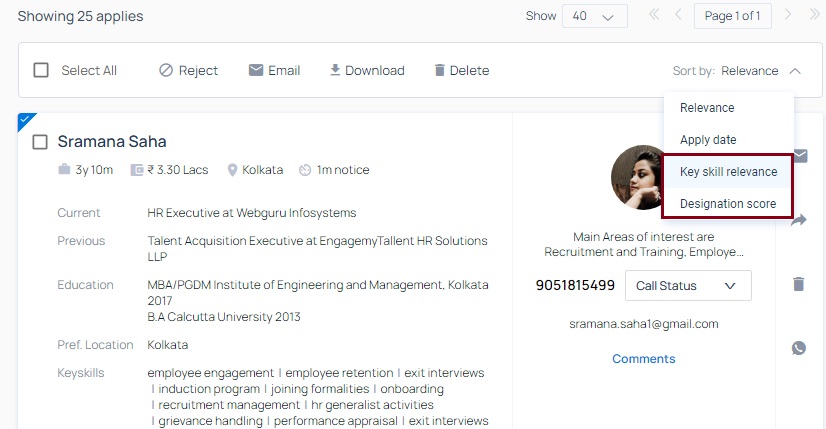 Interested to know more?
Reach out to support@naukri.com (or) call us on 1800-102-5558